The confinement period after childbirth is a time of rest and recovery for new mothers. During this time, mothers should place priority on taking care of themselves and their newborns. To make this process more comfortable and enjoyable, it's important to have a checklist of essential items that will help new mothers stay comfortable, healthy, and happy. If you haven't gotten all the necessary items ready, fret not! Super Nanny is an established confinement nanny agency in Singapore, and we've put together a checklist to help you get started. Keep reading to learn more!
Maternity essentials
Maternity essentials are items that will not only help new mothers recover from childbirth but also provide comfort during their confinement period. One such item are post-pregnancy bleeding pads. These are a must-have item as new mothers tend to experience postpartum bleeding for several weeks after childbirth. Having enough pads on hand is essential to ensure they stay comfortable, dry, and avoid infections.
Additionally, a sitting pillow is crucial to help new mothers sit comfortably and prevent any pain or discomfort caused by sitting for extended periods of time. It's also important to have cleaning items for wounds on hand, such as a cleaning potion, cotton balls, and towels. These ensure their wounds are kept clean, as well as to promote faster healing.
Lastly, comfortable clothing is also crucial during the confinement period. Loose-fitting clothing made from soft, breathable materials will help new mothers stay comfortable and avoid any irritation or discomfort.
Suitable cooking ingredients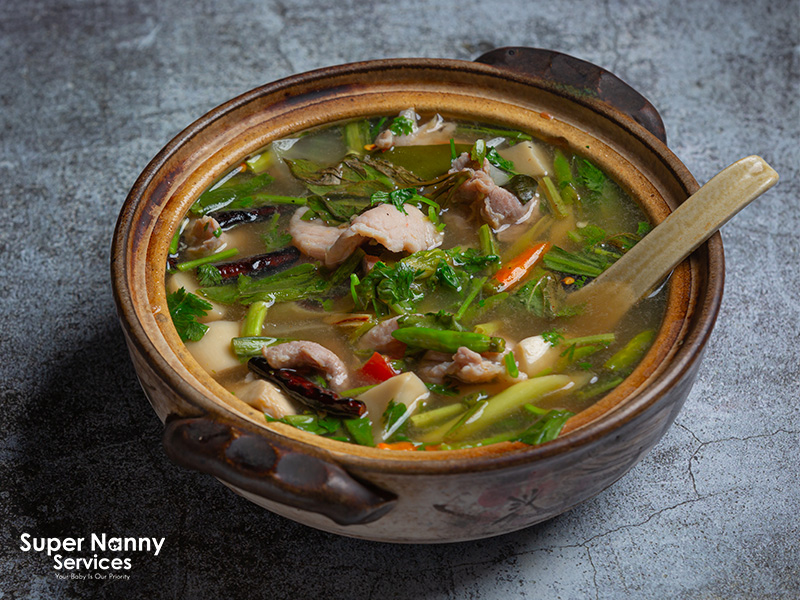 New mothers need to ensure they are eating healthy, nutritious meals during their confinement period to help them recover from childbirth and provide the nourishment their newborns need. Hence, a well-balanced diet that includes plenty of protein, fruits, and vegetables is vital. Excellent options include foods like chicken, fish, tofu, eggs, spinach, carrots, and apples. With the right cooking ingredients, new mothers can ensure that they are receiving the nutrients they need for a smooth recovery and a healthy start for their newborns.
This is where confinement nanny services can be a valuable resource to help new mothers plan and prepare nutritious meals during this time. Confinement nannies can offer guidance on the types of foods that are beneficial during the confinement period, preparing traditional confinement dishes that are rich in nourishment and nutrients.
Entertainment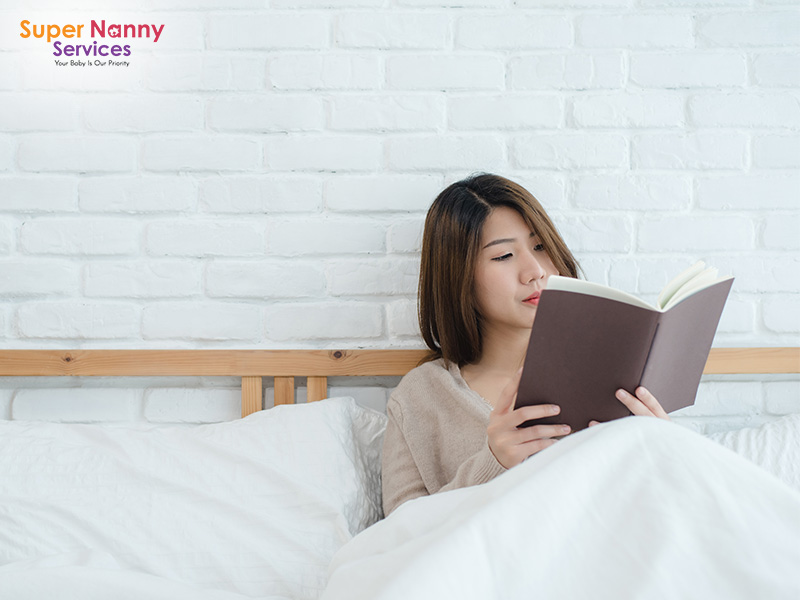 Next on the checklist for the confinement period are items for entertainment like books, movies, and hobbies to keep new mothers occupied. New mothers may find themselves with a lot of downtime during their confinement, and it's important to have activities that will help them relax and pass the time. Reading books or watching movies can be a great way to unwind and escape from the stress of caring for a newborn. Hobbies like knitting, painting, or writing can also be great options for new mothers who want to stay busy and creative.
Learn more: Why Engage Your Confinement Nanny Through A Confinement Agency Instead of Freelance Nanny
The confinement period after childbirth is a time for new mothers to recover from the physical and emotional stresses of childbirth. By having these items on hand, new mothers can set themselves up for a successful recovery and a positive start to their new journey as a parent.
Searching for expert guidance and support during your confinement period? With our team of experienced confinement nannies, Super Nanny provides the personalised care and attention you need to make the most of your confinement period. Reach out to learn how we can help navigate this exciting time in your life with confidence and peace of mind!