Confinement is a postpartum practice where a new mother usually recuperates for about 30 days. During this time, extra help will be needed and this is where a confinement nanny comes in. Employed to stay with the new mother after childbirth, they provide assistance and support to new mothers who might not have any experience with raising a child. They also aid in a number of responsibilities that will allow both mother and child to have all their needs met at the same time.
Having a confinement nanny around can greatly benefit a new mother, but what are the qualities to look out for before hiring one? Super Nanny is experienced in providing confinement services in Singapore and in this article, we'll share a few things to consider when looking to hire a confinement nanny.
Patience and an attentive attitude
Confinement nannies should be committed to help new mothers cope with their confinement period stress-free. That is why showing patience and an attentive attitude towards the needs of both the newborn and the new mother is an absolute necessity. When interviewing your candidates, ask about the times in their work when their patience got tested and how they dealt with it. Inform her in detail about the duties involved and notice how she responds. Is she patient and meticulous? Does it feel like you'll be able to build a rapport with them? This is important as you will be spending most of your confinement period with the confinement nanny and entrusting her with your child.
Reliability
One essential aspect that many mothers tend to overlook is the importance of some "me time" after giving birth. This is necessary to help you recover mentally and cope with the stress involved in being a new mother. A reliable confinement nanny will be able to complete various obligations, allowing the mother to completely recuperate, while ensuring her little one is tended to with a peace of mind.
Good communication
Good communication is the foundation of any relationship between a mother and her confinement nanny. Judge how well your nanny communicates during interviews. Do they speak clearly and confidently? Do they care enough to ask to explain your question if at first they didn't understand it? These all point to a nanny that is confident and communicative.
Experience and referrals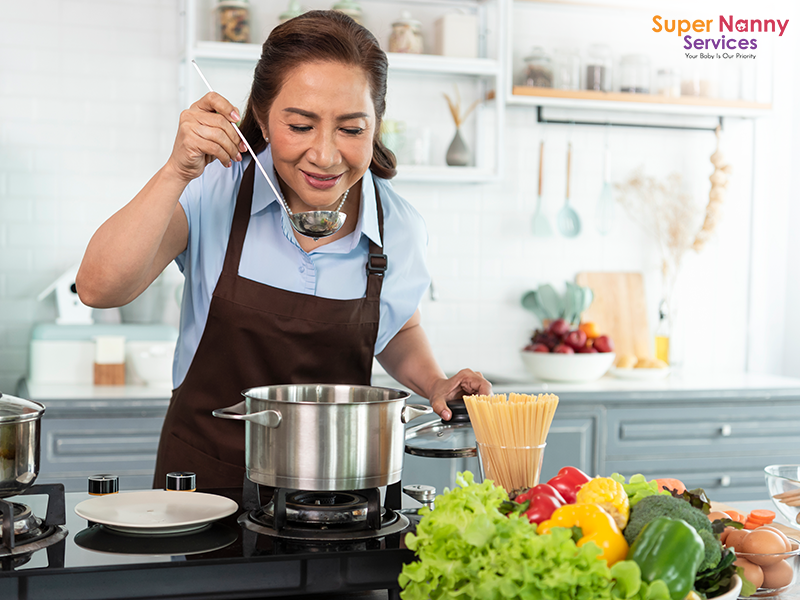 Nothing beats getting confinement nanny recommendations from other satisfied parents. Get in touch with your family and friends, and consider getting referrals from those who have had positive experiences with their confinement nannies. You would also want to hire a confinement nanny with years of expertise and capabilities. Having skills in postnatal care is especially useful too. Ensure that the confinement nanny has an extensive knowledge on postnatal care including her take on breastfeeding, and how she would handle a newborn. Postnatal care also includes providing the new mother with the right food to ensure faster recovery.
We hope these tips will be helpful in preparing you for a pleasant confinement journey. Over at Super Nanny, our nannies have an average of 4 years experience, and are professionally trained with guidelines that all nannies have to adhere to. If you'd like to find out more about confinement services in Singapore, reach out to us at +65 97511415 and we'll be here to provide the support you need!